Well, here we are again.
Most have by now seen the latest post from Dries Buytaert and Megan Sanicki about the reasons they saw fit to remove me from Drupal. Unfortunately, as has been the pattern it seems to raise even more questions than it answers, including from me.
Where have we been?
I reached out to Dries multiple times during the earlier back-and-forth of blog posts in March and April. After his semi-apology on 9 April in which he said he wanted to talk further "when the time is right", I emailed him on 11 April to say the right time was right then, as we needed to address matters before DrupalCon. We had a few brief but largely substance-free calls in which nothing much was said as Dries refused to speak to any relevant details unless I signed a confidentiality agreement. (Although it did prompt my 4th post on 16 April.) Sorting out that agreement took several weeks, and we did not speak of anything substantive until 15 May, long after DrupalCon. Megan was added to the agreement for a second call on 9 June and for three further calls, the last of which was on Wednesday 12 July. At Dries' recommendation we were also joined on the calls by Whitney Hess as an independent mediator, and I thank her for her willingness to attempt to help broker peace.
Because of the confidentiality agreement Dries and Megan required, I am not permitted to discuss what we talked about in any of those calls. I can say that my intent going into them was to get clarity and, ideally, reach a point where we could all issue a joint statement that retracted the insinuations against me and then move on together, with me welcome in Drupal just as anyone else.
Clearly, that did not happen. The timing and speed with which their latest post on 13 July was made (barely 24 hours after the end of our last call) suggests it may have been written even before we concluded talking, and clearly tries to blame me for daring to act in my own defense. It also contains multiple misleading statements that, sadly, I feel need to be corrected.
The timeline
Most notably, the post plays fast and loose with the timeline of events. Let's rewind once more.
Sometime in early February, the Drupal Community Working Group (CWG) referred the outstanding "Klaus is blackmailing Larry" matter to Dries. I am not informed of this in any way. As far as I know, this is the beginning of "the process" insofar as it related to Dries or Megan.
On 24 February, Dries called me, in my very first communication with him about any of this. In that call he did not once mention an issue with my housemate. His main concern was very clearly that Klaus had given an "ultimatum" (Dries' word) to the CWG and was threatening to go public in "days, or maybe less than days, not weeks or months" (again, Dries' words), and Dries was afraid it would be disruptive to the project. He also made it clear that while he thought my personal life was "not right" he agreed that any claims that I was abusive or harmful to anyone were "bullshit" (that was the word used), that I had not violated the Code of Conduct, and that I had done nothing illegal. Rather, he was adamant that "stepping down from the project silently without a statement" could "make this go away, potentially." (Again, his words.) I naturally declined, as I do not tolerate bullying and blackmail.
I spoke to a member of the CWG later the same day who corroborated that Klaus had threatened that he'd go public if my name appeared on the DrupalCon Baltimore schedule, which was to come out the following Monday.
Repeating: At this point I am unaware that anyone knows of, or cares about, my former housemate who attended a few DrupalCamps with me back in 2014-15. Dries does not mention her even once over the course of our 27 minute conversation. The entire discussion is about avoiding Klaus going public with my involvement in the Gorean community that Dries finds distasteful.
Why the entire question around Klaus' threats has been replaced with concerns about my housemate in the latest narrative, I couldn't say.
The following Monday morning, 27 February, I received my one and only communication from Megan: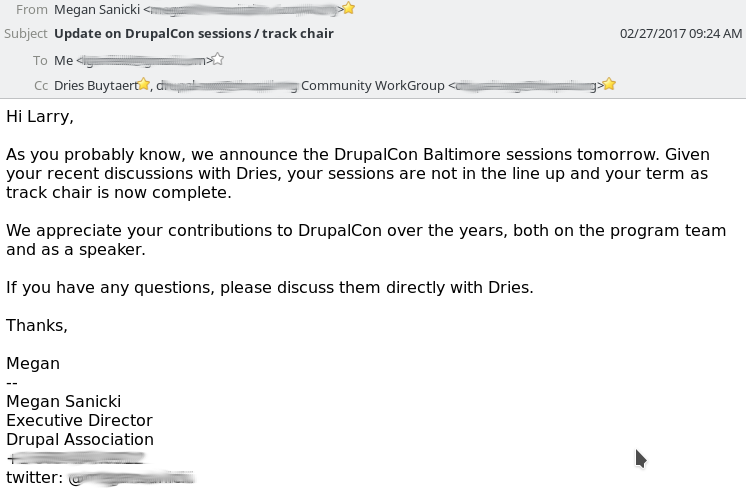 Around the same time that morning, I finally get a few samples from the CWG of what had been circulating about me through backchannels. None of it mentioned my housemate.
Since Dries is Chairman of the Board and thus Megan's boss, I naturally assumed that they had coordinated — or at least discussed — what was happening and the steps they ultimately took. In all of the conversations thus far, Dries was unwilling to even entertain the idea of me not leaving Drupal (and all the damage to me personally and professionally, as well as to the project that would entail). That, to me, said there was no further discussion to be had.
The same day (27 February), I contacted a member of the Board, who arranged for the matter to be appealed to the full Board. I sent the Board a detailed description of my appeal and the situation on Friday 3 March (largely similar to my first public post on 22 March).
On 4 March, I received a copy of the Board packet which contained, for the first time, a mention of my former housemate, specifically in an email to the CWG in January 2017 from "Community Member A" (who has since identified himself in public although I will not name him here). It is an offhanded observation at best. However, as I now had a larger list of things to respond to than what the CWG had given me before, on 16 March I sent a follow-up statement to address the full board packet, including a statement regarding my former housemate that was substantially similar to what I stated in my second post. I did request the Board to keep it strictly confidential as I had not, at the time, spoken to her about the situation. (I did contact her prior to my second post, and got her permission to post what I did.) The delay was to allow the Board to send me questions for me to respond to in writing, which they never did. The Board did not, at any time, in any way, seek additional input or clarification from me or my former housemate.
Reiterating: Up through the Board meeting, I had no indication whatsoever that my former housemate was a significant issue, for anyone. In fact, Dries had told me flat out that issue was "beliefs", and that I had not broken any law or violated the CoC.
Reiterating: The decision by Dries and Megan to remove me from Drupal was made:
Prior to any communication with me (given that Dries demanded my withdrawal during our first conversation);
Prior to my knowledge that anyone had concerns about my former housemate (as I didn't know there were concerns until after the Board meeting);
Without inquiring for any input, clarification, or statement from me, or my housemate, whatsoever.
The Board meeting took place on Friday 17 March. I was unable to attend at the time chosen, as I had informed the Board previously. My sole communication from them was informing me of their vote to affirm Megan's decision to remove me from DrupalCon Baltimore.
On 19 March, after the Board meeting, Dries emailed me to encourage me to not go public but made it very clear that me leaving Drupal entirely was still the only possible end-game: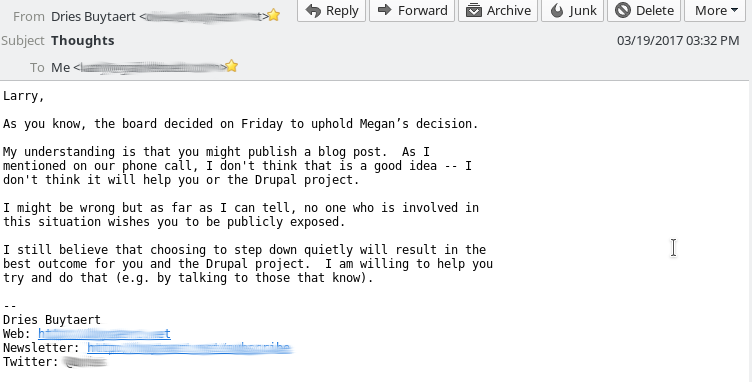 That is, he was encouraging me to give-in to blackmail. I naturally declined, and went ahead with calling out blackmail and discrimination in my first post on 22 March. My intent with that post was exactly what it seemed like: Call out that I was being blackmailed, that numerous people in Drupal were actively passing around private information about me, and that Dries and Megan were trying to remove me from Drupal without apparent cause.
There was a flurry of discussion including Dries' now-heavily-edited blog post about how horrible my "beliefs" are, and so I posted a second blog entry on 27 March, aimed largely at the general discussion around the matter. The issue was not just Dries, but whether or not people in unconventional consensual relationships were/are even welcome in Drupal.
Because some Reddit commenters after my first post had mentioned my housemate, I clarified her role after confirming with her that she consented to me doing so. I also clearly stated the specific people I knew who had taken action, because there had been some confusion about who did what (such as claims that the CWG tried to remove me, which is not true). Meanwhile, others whose identities I still do not know went further and posted the screenshot of a speech I gave at a private BDSM wedding (taken from a private forum) and a presentation I gave at a private BDSM event online in various places. That is doxing, but I do not know who it was that did so. (To be clear, I don't believe it was Dries, Megan, anyone else on the DA staff, or anyone involved with the CWG.)
At this point, I had no indication whatsoever that anyone cared about my former housemate other than a few randos on Reddit.
After my second post, I reached out to Dries to try and defuse the situation, on 28 March: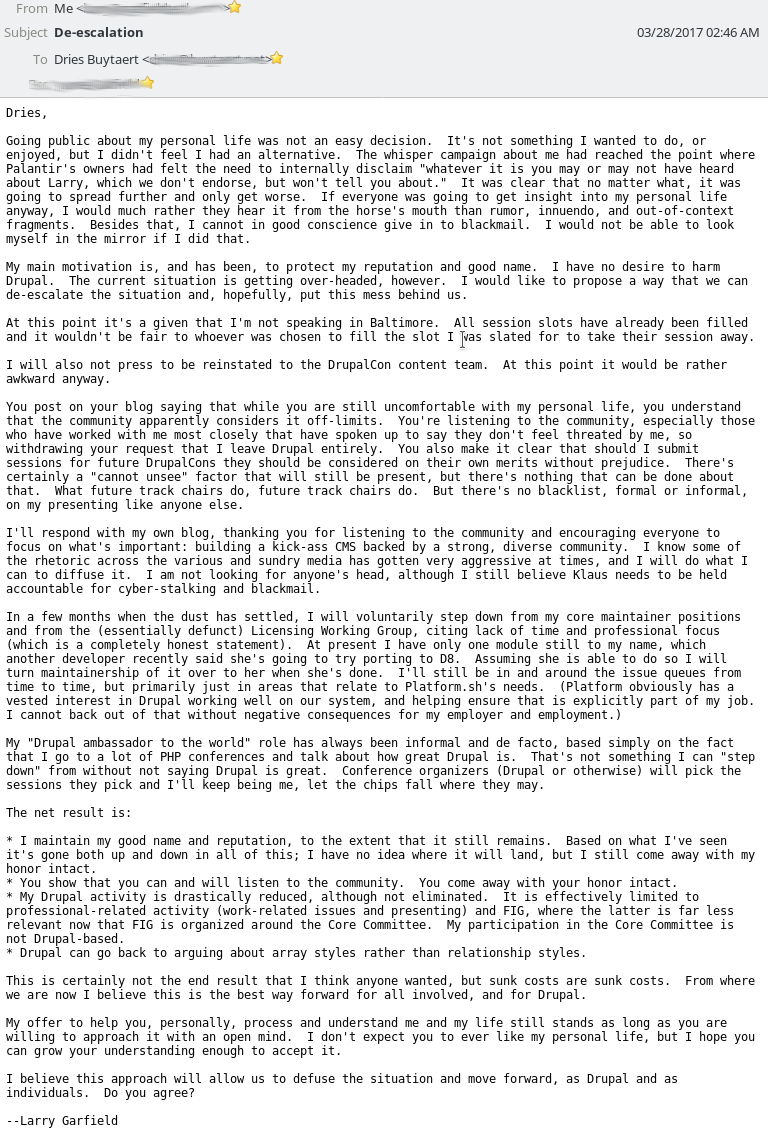 Dries did not respond until after his and Megan's next post on 31 March, which referred to "information provided by Larry during subsequent discussions to get clarity" and "Larry's online interactions, both on and off Drupal.org." His delayed email response stated: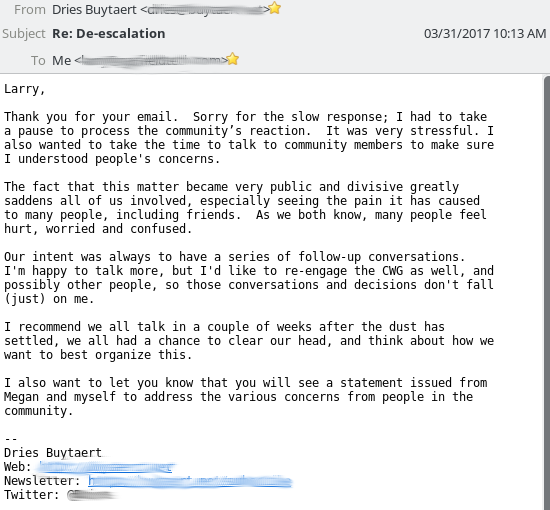 Let's recap:
I did try to de-escalate the situation, and was ignored. That is contrary to Dries and Megan's insistence that I didn't care about harm being caused to Drupal. That claim from them is false.
I can only assume that "Our intent" refers to Dries and Megan, and thus they were acting in concert.
"Interactions off Drupal.org" presumably meant the information illegally obtained by Klaus and/or others. Unless of course it means the secret, and separate, dossier that Nathaniel Catchpole has apparently been keeping on me (which multiple people told me was being "shopped around" and was later published by Breitbart; I am not providing a link to it because I have no desire to give them any Google juice), which I did not know existed until after my initial post. If there are other "interactions" involved, they have still not been shared with me.
Despite having confidential conversations with Dries and Megan to gain clarity into the situation, I still do not know what interactions on Drupal.org they're referring to.
Even then, they were apparently backdating information I provided them on 16 March to justify decisions made in February.
The present
So now, Dries and Megan are claiming that the issue was, and always was, entirely based on concern about the ability of my housemate to consent. To consent to what is unclear; usually that phrasing refers to sex, but my interactions with her in public (Drupal or otherwise) were always extremely G-rated. To the best of my knowledge, the only information about her they had was "Community Member A's" single paragraph of being uneasy in-hindsight after she didn't want to talk to him (being mute and shy) and wouldn't make eye contact (being autistic).
Somehow, "she's quiet and shy" turned into "we think there might be a consent issue here".
For those not familiar with it, autism can have a very wide variety of symptoms ranging from mildly socially awkward to completely non-functional. No two autistics are alike. Common (although not universal) symptoms include eye-contact being highly uncomfortable, not understanding social conventions, delayed speech or not speaking at all, and either extreme extroversion or extreme introversion. My former housemate has extreme introversion and eye contact with anyone, even me, is extremely uncomfortable for her. She is still an intelligent woman with her own thoughts and feelings and moral stances. Every single bit of her atypical behavior in public was due to her autism, which is why she specifically instructed me to tell people that she was autistic as a way to explain her odd behavior. All of which could have been found out by Dries et al if they had simply spoken to me and asked before summarily dismissing me because of "beliefs".
And for the record, she has reviewed this post and consented to the above description and all details shared pertaining to her in this post.
To quote Dries from his most recent statement:
To be clear, potential legal and ethical questions were raised by various people, including the Drupal Association lawyers, that this person could be vulnerable and may have been subject to exploitation, which raised the risk of substantial damage to the project.
That's a long string of "coulds" and "maybes" all happening in secret about me, with no actual evidence, just hearsay, about an event two years earlier (Midcamp 2015, presumably), with all of the "suspect" behavior being attributes of her autism. Is Dries suggesting that issues were raised two years ago, he never inquired or spoke with me about it nor reached out to the woman who was supposedly in danger, and the supposedly-dangerous Larry was allowed to keep presenting for 2 years until Klaus forced the issue? Or that two-year-old innuendo was now being dug up as justification to go after me now? I don't know.
Whatever it was, it seems to have all happened in secret, without any communication with me, and without any substantive evidence whatsoever. This information was actively withheld from me for months during our conversations in February through April. Yet now my open and honest explanations to the Board on 16 March (after Dries and Megan decided in February to summarily remove me from Drupal) are being retroactively used to justify their actions against me.
This is also completely at odds with Dries' original statements to me — that the issue was avoiding anyone finding out that there were Goreans involved in Drupal — and in his original blog post — that the issue was entirely "beliefs" of which he did not approve — which made no mention of my former housemate at all. These statements cannot both be true.
To quote Megan from her most recent statement:
However, in this case, given the information we received about this person, we were concerned that it was possible that she could not consent. I sought input from board members and from professional experts, including legal counsel, who expressed concern that Larry's action in his leadership roles created possible legal risk to the organization.
There are several issues to address here. First, unless they are still withholding information from me, it means that a single paragraph from one person in an email to the CWG about my housemate being shy made her "concerned that it was possible that she could not give consent". A paragraph, I might add, which caused the CWG to find exactly nothing wrong. While I hate to cast aspersions, that strikes me as clear autism-shaming out of ignorance.
Also, "I sought input from board members..." What? Who? Despite having several confidential conversations with Dries and Megan, this is the very first I am hearing of Megan involving Board members prior to my appeal. Does she mean just Dries (Chairman of the Board)? The whole Board? Just select members? I do not know. If select members of the Board were already in the loop about my uncalled-for removal, why was I allowed to appeal the matter to the full, already-tainted Board? I have no idea.
Megan further states "The Drupal Association can not and should not investigate or adjudicate legal matters."
At least on this point we 100% completely agree! And yet she is willing to take harmful action against someone anyway given nothing more than hearsay. That is, she is adjudicating legal matters.
The most "damning" (and I use that word ironically) accusation they are even able to make is that I "allowed" my former housemate to contribute to Drupal, as though I was preventing her from doing so otherwise. Bollocks. Here's the actual quote from my second blog post:
She is very intelligent and curious and was interested in programming, so after she took a free online coding course I allowed her to help me with some small Drupal core patches. Her shyness, however, prevented her from posting any issues in her own name, so we abandoned that endeavour. She still wanted to learn, though, so I brought her along to a number of Drupal and tech conferences in the Chicago area.
She took a free online programming class all on her own; I reviewed her assignments to give constructive feedback. She then helped me with some minor PSR-0 refactoring for Drupal 8, on a patch I submitted. Yes, I "allowed" her to help me directly with a patch, at her request. How terrible. She wanted to do more to help, but was too uncomfortable posting in her own name and I was not comfortable posting her work under my name as though I had done it.
It sounds like "tried to help someone who wanted to contribute to Drupal to contribute to Drupal" is the actual accusation against me. I certainly hope we're all guilty of that.
Megan further states:
We referred the situation to our legal counsel and followed their advice by removing Larry from leadership roles and we referred the matter to authorities.
Woah, wait, what? What authorities? Again, despite several weeks of confidential conversations with Dries and Megan, this is complete news to me, even now. I assume she is not referring to the police department in my city. Back in 2014, some unknown person (I presume entirely Drupal-unrelated) called the police on us using fabricated claims and three officers came to my house within hours in the middle of the night to perform a "wellness check". After speaking with my housemate and doing a walkthrough of my house, they found no cause for concern at all, nor did a mandatory follow-up visit from a city social worker. In fact, the Lieutenant in charge stated that we were apparently being targeted for harassment by an unknown party and were it to happen again they would try to identify who it was.
Here's a copy of the police report from 2014 (with names other than my own redacted by the police department, and my address redacted by me):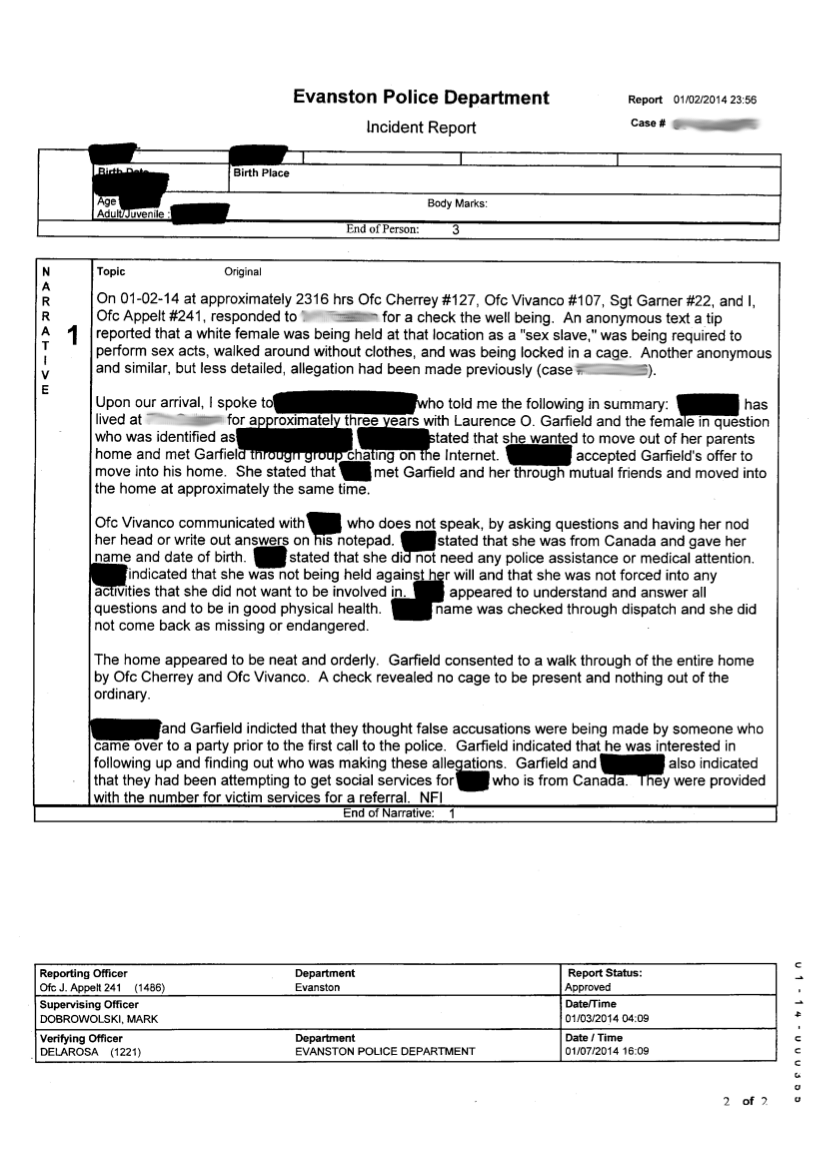 (The individual mentioned in the 2nd paragraph is my other housemate, whom I'd known for several years before she moved in. She has also reviewed and approved this post.)
I helped take my former housemate to two different autism therapists over the course of three years, both of whom were fully aware of all details of our relationship, neither of whom ever had any concerns about consent whatsoever. I participated in those sessions specifically at her request. Note that therapists and social workers are "mandatory reporters", and would have been legally required to report to the police if they felt the situation was abusive. (320 ILCS 20/2 and http://www.dhs.state.il.us/page.aspx?item=10687 and https://www.illinois.gov/aging/ProtectionAdvocacy/Pages/abuse_reporting…). They didn't. And for the record, I did inform the Board of that police visit in my second statement to them, which means Dries and Megan knew about it prior to my first public statement.
Since this matter began, my former housemate has offered to authorize her therapists to speak to selected parties on her and my behalf, and both therapists expressed willingness to do so. As of today, however, that offer has not been accepted.
So I don't know what "authorities" Megan refers to, but two autism specialists, a social worker, and three police officers all agreed that nothing illicit, immoral, or illegal was happening, and everything was entirely fine and consensual. I would consider them reasonable "authorities".
Dries further states:
Larry's posts created material disruption to the project and the Association based on incomplete and inaccurate information.
And Megan continues:
Larry's subsequent blog posts harmed the community and had a material impact on the Drupal Association, including membership cancellations from those who believed we doxed, bullied, and discriminated against Larry as well as significant staff disruption. Due to the harm caused, the Drupal Association is removing Larry Garfield from leadership roles that we are responsible for, effective today.
People canceled their DA memberships because they felt the DA was mistreating me. And somehow Megan is trying to make that seem my fault for stating facts. I reject that characterization outright.
I never claimed that the DA doxed me. In fact I never said anyone doxed me. I said some unknown persons were sharing my private information through back channels. I said Klaus was blackmailing me, and implied he was effectively blackmailing Dries.
Whoever it was that decided to post screenshots of my private posts to an anonymous image site, after my first post, they doxed me. Whoever it was that posted my slides from a presentation I gave at a BDSM event to a public GitHub site in order to name-and-shame on Twitter, they doxed me. I do not know who either of those people were, but I do not believe any DA employees or CWG members were involved in that.
I did not say the DA was bullying me. Klaus was bullying me.
I did say that Dries and Megan (Megan specifically, not other DA staff) were discriminating against me. Given that every single thing that had been said to me by Klaus, the CWG, and Dries (Megan having said nothing) was about "beliefs" and my private practices, that was an entirely reasonable conclusion to draw. I still believe it to be the case.
And all of that, all of that misdirection, all of that refusal to engage, all of that active withholding of information, all of that doublespeak, gets passed off as "poor communication" that needs to be "streamlined".
"Poor" is an insufficient adjective to describe such behavior.
Don't go low
I admit to also being very disappointed in some of the discussion around this topic, on all sides. I am equally disgusted by those who seem to assume "she's mute must mean she's being abused" (bollocks) as I am in those calling for blood. Let me be crystal clear: I am not out for blood. I am not out to do harm. I am out for truth. I am out for honesty. I am out to protect my name and my reputation. I am out to defend the rights of people to have their own personal lives free from discrimination and interference. And, apparently, I am out for the rights of autistics to not be automatically treated as weak abuse victims just because of someone else's ignorant discomfort.
I openly condemn the threats that some have made to further dox other members of the community. I openly condemn anyone, regardless of their position on the matter, who has or is sending hateful, abusive messages to anyone, doubly so if it is against people who were and are uninvolved in this whole mess. Express your disappointment or disagreement civilly like a mature adult. Don't you dare try to defend me by doing what I am fighting against. If you can't show your support without being an asshole, then I don't want your support.
What have we learned
A number of things, unfortunately.
We've learned that a vocal significant minority of people in Drupal do not believe Dominant/submissive relationships can be consensual at all.
We've learned that Drupal's senior-most leadership feels autistics cannot consent, at least if they're mute, although consent to what is unclear.
We've learned that the penalty for bringing an autistic person to a DrupalCamp and making someone uncomfortable because she doesn't talk is to be summarily dismissed from any and all positions of responsibility.
We've learned that the penalty for actively soliciting blackmail material and then trying to blackmail fellow members of the community is also to be removed from any positions of authority, as Klaus has been. (It seems odd that both of these warrant the same action.)
We've learned that collecting "dirt" on a fellow member of the senior team with intent to use it to force the person out warrants no penalty.
At this point, I cannot in good conscience continue to be an advocate for Drupal in the broader tech community. Though it pains me to say it after 12 years with this project, to be stabbed in the back by so many, even if they're a minority, is unbearable. Doubly so when it's by the project lead, a man whom I had considered a friend.
Up until this point, despite all that had happened, I had not canceled my Drupal Association membership, in the hopes that this matter could be resolved honestly. Unfortunately, I now see that honesty is not going to be forthcoming. I have now canceled my DA membership as I can no longer, in good conscience, financially support those who continue to discriminate against — and spread misinformation about — me and those in marginalized groups.